Ann's Artist Statement
Ann is a Canadian mixed media artist who practices as an abstract and emotional expressionist. She uses the fundamentals of abstract art and bridges traditional fabric art, painting, and mixed media to develop the spirit of her images. Traditional boundaries are often blurred as was often the case for art produced in the first half of the 20th century.
She works intuitively to create wall art that is:
Truly unique;
Dynamic and unusual;
Complex, intimate and very detailed;
Multiple layers of canvas, paper, fabrics and other mixed media create three-dimensional images.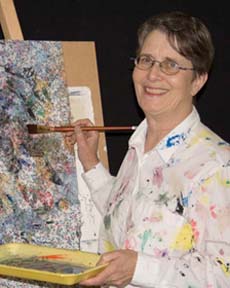 Shifting planes of color and embellishments interact to create delicate compositions. Background layers are partially masked by transparent fabrics that are painted or silk-screened. The hidden parts represent factors which are unknown and beyond human control. The foreground layers are often burned away to allow a glimpse into the unknown. The layers represent change with the background representing changes that are harder to understand.
The layers illustrate conflicts and uncertainty about life. Some of her abstract pieces reflect joy and hope while others show confusion and fear. However, she generally creates pieces which reflect her positive outlook on life.
By exhibiting locally, nationally and internationally Ann contributes to a better understanding among people of the world. She has exhibited at the Biennale Internazionale Dell'Arte Contemporanea in Italy and at the Amsterdam Whitney Gallery in New York City.